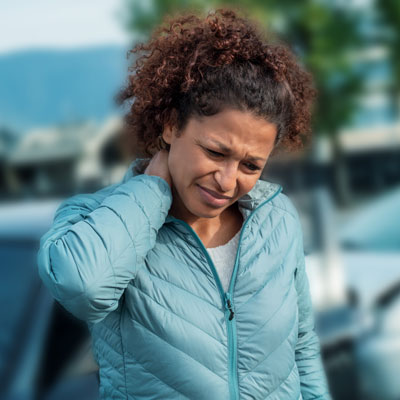 Whether you experience a low-speed parking lot fender bender or a high-speed collision, it's important to get a chiropractic evaluation as soon as possible afterward.
Even if your vehicle has little damage, you likely do. For example, scar tissue can start to form within the first 24-72 hours. The sooner you get to us, the better you're going to respond to care.
"I want people to know that even if they've been in a small accident such as getting hit at 10-15 mph, it is still important to get checked to make sure no damage is done to them," said Dr. Hoover. According to Dr. Hoover, many people are unaware that chiropractors can provide auto injury treatment.
'But I Feel Fine'
Many times after an accident, adrenaline kicks in. A patient may tell the EMT or police officer that they feel fine and then find that they can hardly move the next day. We've seen people come in with complaints that didn't start until six months after the fact and the patient didn't even relate it to their auto accident.
Excellent Care & Representation
Dr. Hoover has considerable experience working with PI cases. He also works with local attorneys and gets some referrals from them. "Our note-taking system is very thorough, and we even self-audit by having a professional auditor look at our notes for each case. We're well prepared if we had to go to deposition or court. I want people to know that they're not only getting excellent care, but excellent representation," he said.
Frequently Asked Questions
How is post-accident care at your practice different from treatment at a hospital?
Normally what happens if you go to the hospital is that you'll be told you just have a minor sprain/strain, and then handed a prescription for an anti-inflammatory and muscle relaxer. And then you'll be sent on your way. The problem with this approach is that a month or two later you could start to develop problems you didn't have prior to the accident. Chiropractic addresses the root cause of the problem versus applying a bandage solution.
Yes, often the extremities are affected in an accident. We can adjust all of them, including the wrist, knees, ankles and feet.
Yes, because the X-rays are digital, Dr. Hoover can read them instantly. We also have a referral source up the street that can do MRIs, CT scans or ultrasounds.
We're Here for You
If you've been in an auto accident, please contact us immediately to get checked. We want to help you get out of pain and on the path to healing with our natural and effective care.
CONTACT US