Chiropractic Care
Our Approach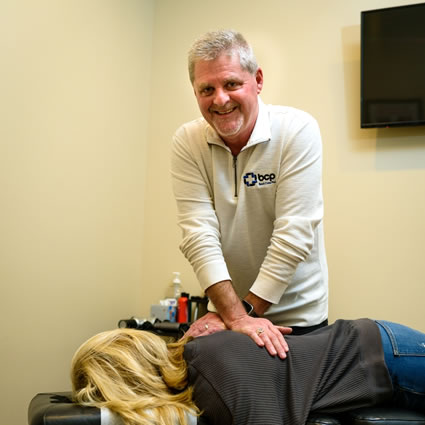 Our approach to chiropractic care at Back Care Plus is to provide the range of techniques and services necessary to help as many people as possible get out of pain and get back to better overall health and function.
Many people seek out care for back pain and neck pain, and we love helping those patients get better! But Dr. Hoover is always working to educate patients about the benefits of chiropractic care that go far beyond the usual complaints. For example, most of our patients had no idea that chiropractic care can help with extremities. Dr. Hoover gets great results with all sorts of joint issues, including carpal tunnel syndrome, tennis elbow, shoulder injuries, knee problems and ankle and foot conditions.
Our bodies are subjected to stress from our daily lives, including repetitive actions from working at a computer, driving, or sitting for long periods of time, as well as our leisure activities—swinging a golf club, for instance, requires optimal range of motion, and without it, there's a greater likelihood of injury. That's why getting chiropractic care can help you not only feel better, but function better as well.
And when we help you get back to optimal function, we like to help you stay there with regular maintenance care to keep your joints moving as they should.
Our Range of Services
Dr. Hoover is a chiropractic physician with over three decades of experience tailoring care to each patient's individual needs. He will create a treatment plan for you utilizing whatever your body needs. Our techniques and services include:
Diversified manual adjustments
Instrument-assisted adjustments
Traction
Decompression
E-stim
Ultrasound
Trigger point therapy
Myofascial release
Most of our patients receive therapies as an adjunct to their chiropractic adjustment. However, we are able to accommodate patients who are looking for a particular therapy without an adjustment.
Learn More Today
We are happy to answer any questions. Contact us today to schedule, or to learn more.
CONTACT US

Chiropractic Care | (256) 772-2370